As part of the benchmarking team here at Compuware, we're often asked, 'what is benchmarking?' and 'why is benchmarking web or mobile site performance important?'
First, let's define what we mean by 'benchmarking' – benchmarking compares and tracks web or mobile site performance against competitors in your industry and Internet leaders.
Our Benchmarks measure key customer interaction points — the home page and key business process transactions like placing an order or making a trade — on both web and mobile sites. Web and mobile sites that don't perform well — are slow to load, have periods of unavailability or have inconsistent performance — negatively impact customers' experience, their satisfaction, and the likelihood that they will continue to spend time on the site or make a purchase.
The business impact has been documented in numerous studies. Compuware's own research found a direct correlation between an improvement in page load time (response time) and an increase in conversions and a decrease in page abandonment.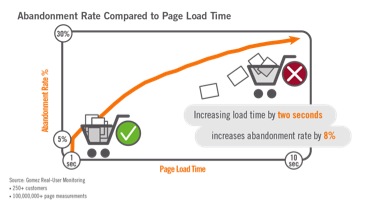 Is our site as the average for our industry? Benchmarking is a first step in determining whether your web performance or mobile site performance is supporting your business goals and meeting your customers' expectations. You need to benchmark both industry leaders and your competition. You are trying to determine:
How do our site's metrics compare to the Internet leaders?
What is our site's performance change over time?
Web performance benchmarking can help answer these questions while also providing context:
If your company's web site downloads at five seconds on average, are you doing well?
What if the site recently went through some hardware upgrades and used to download in seven seconds on average?
You would feel good about your improvement. But, what if you benchmark against your competitors' sites and find that their sites downloaded in three seconds on average? You would likely feel differently about your improvement with the knowledge that other sites are creating increased performance expectations for your site's visitors.
By benchmarking web and mobile performance, you have insight into how Internet leaders and your competition are performing and how your site compares to others in your industry. This comparative measurement approach can help you gauge customer expectations in your industry and make better decisions about investments in optimization projects.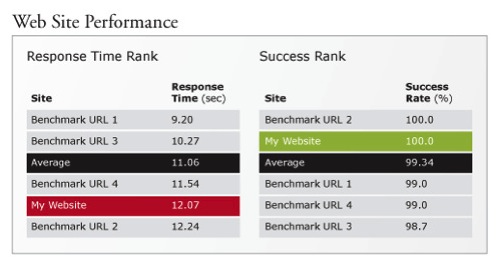 Top performers work hard to ensure that their web and mobile site performance is a differentiator and drives business. With the lightening-speed of technology change and marketing innovation, they have made a commitment to continuous improvement as they evolve their sites to meet their customers' expectations and stay ahead of the competition.
To learn what approach and practices top performers use, we created a new white paper where we've compiled a top ten best practices list based on the benchmark practices of some of the top web and mobile performers.
You can download the white paper "10 Best Practices for Benchmarking Web and Mobile Site Performance" at http://ow.ly/6F17J.
A good place to start is to run a free Custom Benchmark report to find out how your site's speed and availability compares to your competition. You will receive a daily report delivered by email for 7 days comparing web page load time (response time) and availability for your site and 3 other URLs.