We were about to expand our new business into Europe. Backed by years of experience, we expected that our website would not perform as anticipated in that region, as all of our servers were located in Amazon's US East Region. So we decided to set up an European mirror to solve that issue. At about the same time, Dynatrace monitoring was deployed into our own infrastructure. When we looked at the User Experience Index page, Dynatrace confirmed that the numbers for Europe were not excellent. But, hey, they were not that bad either. And US is performing just fairly?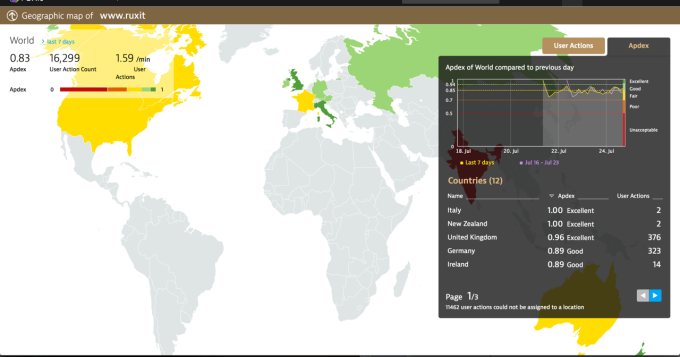 We expected performance there to be much better. Well, that must be the west coast, dragging our US Apdex down. Zooming in on the US, we noticed that US west was not the problem. US east also performed moderately at best.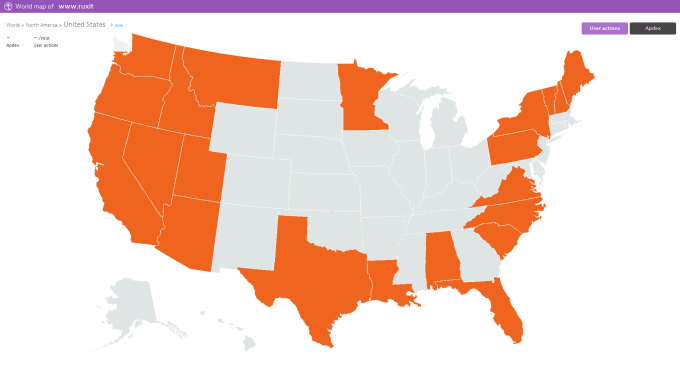 Our appraisal, that we will need another mirror for our European visitors seemed to be falsified by Dynatrace. More than that, we were confident that we were catering our US customers as good as possible. Dynatrace proved us wrong on its very first day in the office. We were not only prevented from setting up an unnecessary mirror server. We also discovered that the content delivery quality of our site in general was insufficient.
Now, let us have a look at your application's performance!
Dynatrace does not flood you with endless data about your site. Instead, Dynatrace refines all that raw data into a single metric, the Apdex. This not only saves you from number crunching day by day, it also saves you from inaccurately interpreting all the metrics.
The User Experience Index applies an Apdex overlay onto the world map and allows you to quickly evaluate how your users experience your services.
For a long-term view on your site's data, you can change the timeframe on the upper left. There might not be much traffic at certain times, but your site may have been bustling for the last 24 hours nonetheless.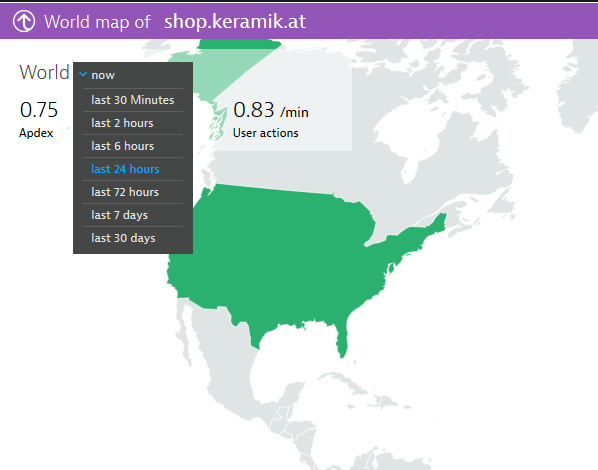 As the world map is an easy way to visualize data, we not only provide the Apdex overlay, but also the possibility to visualize the number of user actions. You surely already noticed the tabs on the right-hand side. Use them to switch between the Apdex and the User actions overlays with a single click.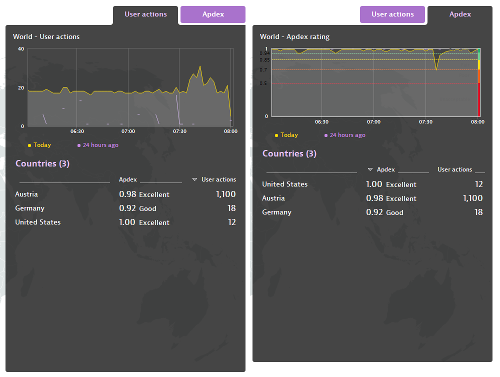 Monitoring your user's performance really is as simple as that. Dynatrace provides all the information we needed with just a few simple clicks. We are sure that this will come in handy for you, too.
Do you want to read more about getting the most out of Dynatrace? Check out our wiki at https://help.dynatrace.com/.
If you have any questions or suggestions, please feel free to get in touch with us at https://community.dynatrace.com.
You have not signed up for Dynatrace yet? Head over to Dynatrace and get started for free in no time!