User behavior analytics will soon be available on each application page. Read on for a sneak peek at what you can expect from this innovative feature!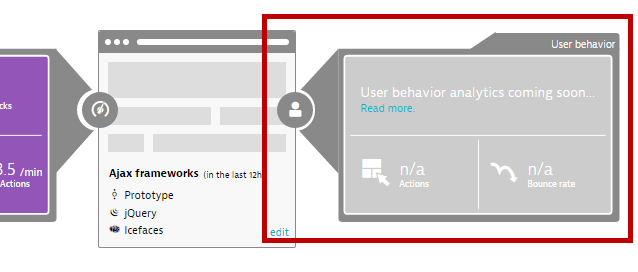 Dynatrace real user monitoring doesn't only provide details regarding user actions (page visits and XHR requests). Because real user monitoring begins in the browser, it can correlate all user actions performed by an individual user over the course of their visit. We call such an activity stream or click path a session. The Dynatrace team is working hard to bring you session-related use cases and analytics.
With this cool new feature we can help you answer questions like:
How was the bounce rate over the last month? Was it influenced by the performance of my application or JavaScript errors?
How many active sessions do I have? How many actions were performed by my users?
What are the most requested entry pages? How well are those pages performing?
For which exit actions do I have the most JavaScript errors? Which exit action is the slowest?
At what time of day are the most users visiting my site? What's the maximum number of active sessions over a given time period?
More details are on the way, so stay tuned!
We'd love to hear what you think about this new feature. So please leave a comment below.
— The Dynatrace team