It's that time of year again, back to school. Parents have to outfit their kids with gadgets, supplies and clothes. Dynatrace has looked at a selection of retailers to see how their sites have been performing through August as consumers' forage for back-to-school deals. Dynatrace tests these retailers from end user locations using real browser to load specific pages or execute retail transactions. These tests not only give us an understanding as to how fast these pages can load and how successful we were loading the pages, they also allow us to understand how consistent and complex the pages are. Here is a view of how some of these retailers performed through August.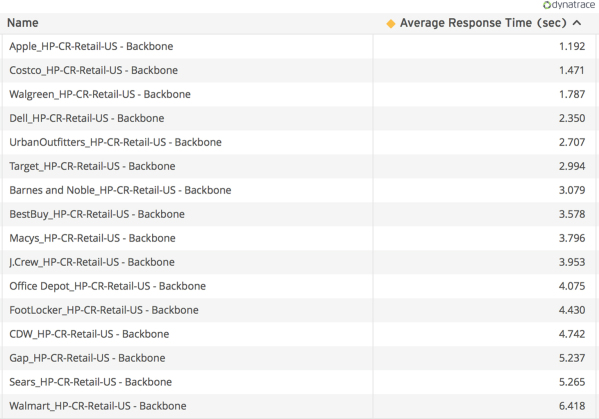 While online shopping is a part of this season, what we are seeing more often is Digital Shopping Convergence, where parents armed with mobile phone make their way to big box stores and the malls looking for the latest back-to-school promotion. Retailers have had the digital age and smart phone enabled shoppers thrust upon them. Some retailers have embraced digital transformation and offer their customers the ability to check stock levels and locations in specific retail locations. That is an immensely powerful capability put into the hands of consumers who can check product reviews and compare prices while they are in an actual bricks and mortar stores. For this to work the mobile experience has to be fast.
Here is a look at how these retailers' mobile sites are performing. Dynatrace tests across real wireless connections (Verizon, AT&T, Sprint, etc…) just like consumers would be using when they are in bricks and mortar stores.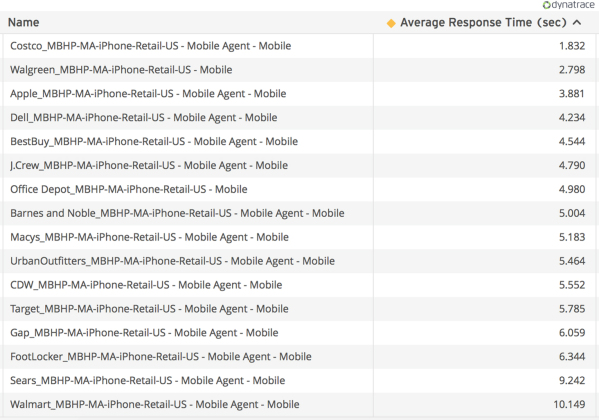 The way in which retailers delivery their mobile applications and mobile web sites can have a dramatic impact on end user experience. For example, mobile applications can be susceptible to "heavy" or complex pages. Below we are looking at how Apple reduced their page weight and the impact that it had on their response time. Tweaking the front end of an application is one way of improving performance.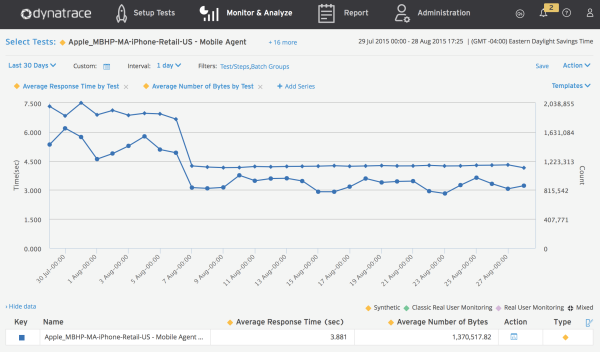 Another way of improving performance is by looking at the server side of the retail site. The best way to understand how a server has impact a retail transaction is to instrument it. Instrumentation not only allows you to optimize performance on the service it also allows you to tie real user visits to the responses to the servers, database and code that is used to respond to those requests. Below is an example of different types of tiers that can exist in a retail application. Any one of these tier can be a performance bottleneck.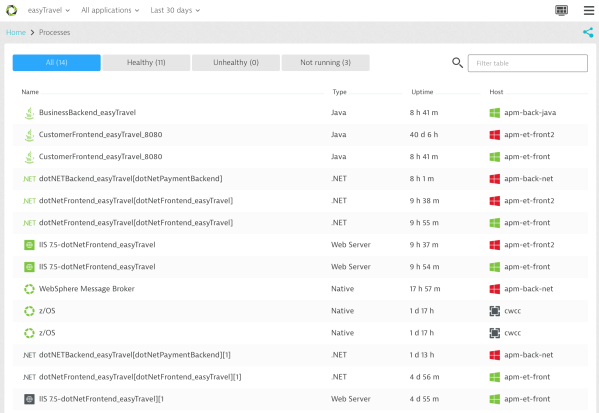 When the services above are used to respond to a consumers request for product information or retail transaction, the instrumentation can be used to understand what the consumer did, what their experience was, etc… What that means for retailers is that they can understand when performance issues occur what was the impact on End User Experience, User Satisfaction, Conversion and ultimately Revenue.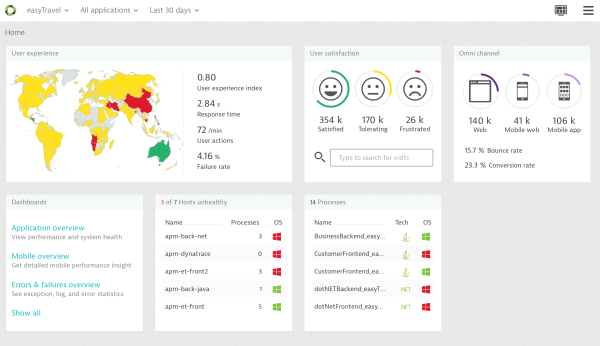 For retailers, this Digital Convergence is requiring them to think of new ways of interacting with their customers who may want to purchase online, but will also be in bricks and mortar stores looking for product reviews, coupons and competitor prices. I expect to see in the future retailers get even cleverer about offers in store digital experiences. Think about a retailer who offers free in store WiFi. If the retailer controls the WiFi network they can target additional promotions to popup on web pages by passing the traffic through a proxy or even filter searches for competitor's products from within their WiFi network.
The digital retail experience is no longer just in front of a desktop, it takes place on the couch, in the bedroom, in the mall, in the store…  It is truly an omni channel experience. Retailers who don't adopt an omni channel approach to their overall digital experience will find themselves with more than failing grades for next year's back-to-school season.