In an earlier post, I discussed that if retailers want to maximize ecommerce revenue from tablet owners, they had to first deliver fast, quality, optimized web experiences to their customers on tablets. This not only holds true in retail, but also for financial services.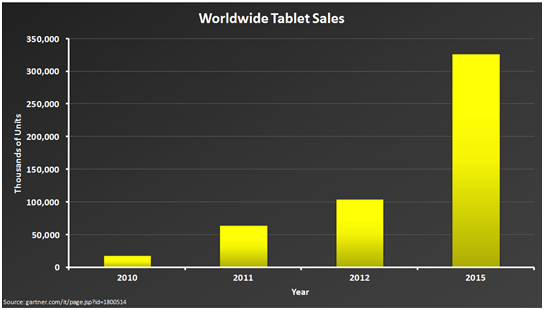 According to Gartner, worldwide tablet sales will reach 326.3 million by the end of 2015. Tablet owners' higher than average income, $120,000 annually according to Forrester, and advanced education make them a desirable target audience. Some would argue too good a target to miss.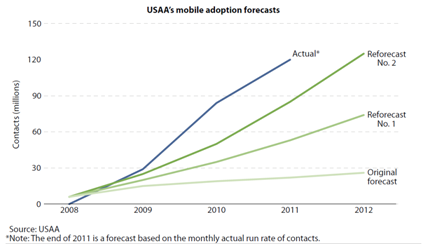 Source: Case Study: USAA Makes Mobile Remote Deposit A Core Mobile Offering, Forrester Research, Inc.
With mobile banking starting to gain significant traction, financial services executives have high hopes for banking via tablets. Banking institutions like USAA are beginning to deliver innovative, quality experiences to their mobile users.
There are two approaches to engage tablet users – native applications and websites that function optimally on tablets. A successful mobile/tablet initiative should include both approaches. Why, you may ask?
Let's start with tablet applications. "We want a tablet app that engages customers, and gets five stars on the App Store…" demanded a managing director, Internet and mobile banking at a major North American financial institution in a recent interview.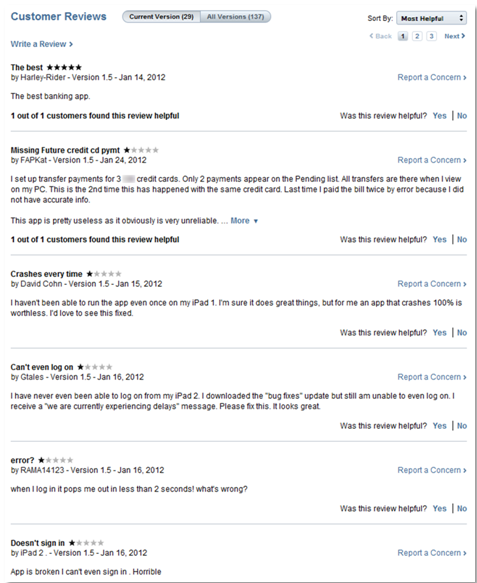 However, that's not as easy as it sounds. You should also be suspect that in the review above, "Harley-Rider" had such a great experience while virtually all others didn't. Perhaps said executive is a biker? Constrained hardware, low bandwidth, and high latency networks all combine to make delivery of quality end-user experiences to tablet owners quite a challenge – whether it is in the form of native mobile apps or websites.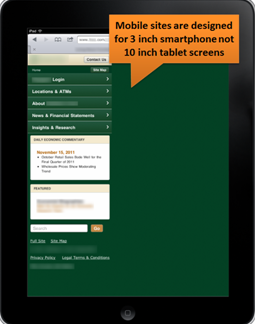 Thirteen of the 15 top U.S. retail banks deliver websites designed for a laptop/desktop computer (i.e. broadband, fast hardware, keyboard and mouse interaction model, etc.) to iPad users. Two of the top 15 deliver mobile sites designed for 3 inch smartphone screens. "Quality" end-user experiences do not seem to be at the top of the la priority list for these banks.
Also, when it comes to the performance of the websites being delivered by the top 15 U.S. retail banks to tablet users, the picture is not much better:
The average page load time of the top 15 U.S. retail banking websites on an iPad is not even close to the established 2 second threshold expected by the majority if Internet users
Website availability is as low as 95.8% or put another way, that particular site had 1 day 6 hours and 14 minutes of downtime last month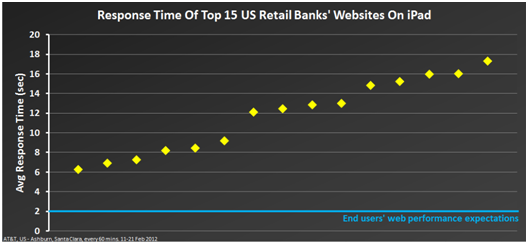 Are tablets becoming a critical consideration for banks?
That's tough to say – initiatives are being launched, significant ad budgets are committed to promote tablet apps, executives are going on the record to talk about the mobile revolution – yet looking at the overall the end-user experiences U.S. retail banks are delivering to their customers who own tablets, the resounding answer has to be no.