It's been a while since we released the last major version of Compuware Dynatrace AJAX Edition. With AJAX Edition 4 we introduce the capability to test across all versions of Internet Explorer (IE) starting with IE6 and all current versions of Firefox starting with 3.6 until Firefox 18 (current version as of release date).
Why is this important? Well, check out the test results of several pages we tested on IE6, 7 and 8 and contrast them with tests of the same pages using Firefox 16 and 18. A product page on Zappos.com loads in 1.3 seconds in Firefox 18 as compared to 5.6 seconds in IE6. That is four times slower on IE's rather ancient browser. Despite a concerted effort by the industry to get people to use updated browsers (including this one by Microsoft), we're still seeing a big mix in the browser versions people use to access websites. That means it's important to analyze webpage performance across browser versions to ensure your site functions and performs as it's supposed to.
In this blog post I want to show you how to do it and what the typical differences in performance are.
Step 1: Download FREE Dynatrace AJAX Edition
Go to the AJAX Edition webpage and click on the download link. Run the Windows installer and launch it from your Start menu. You will be prompted to register a new APM Community account; use your existing account or continue with a five-day registration-free period. After five days the product remains free to use but you need to register an account. Registering a community account gives you full access to the discussion forum on the Dynatrace Community Portal where you can network with AJAX Edition peers and Compuware application performance experts to learn best practices, post questions and find troubleshooting tips.
Step 2: Capture Data Across Multiple Browsers
Now we are ready to start capturing performance data!
Click on "Click here to start tracing" and select either IE or Firefox. As you will be testing a web page you will be prompted for a name and a URL that you assign to that name, e.g., Zappos and zappos.com. Click "Run" and AJAX Edition will launch your browser and navigate right to that URL.
Walk through a use case on the page that you are testing, e.g., navigate through the menus, do a search, put items in your shopping cart or try out the social plugins. AJAX Edition will automatically capture all Network Roundtrips, JavaScript Executions, Rendering Activity and AJAX Requests for later performance analysis.
You may need to modify your browser's settings for this step to work properly. Check out our tips page for more information.
Step 3: Analyze High-level KPIs
I recorded several steps on zappos.com with different browsers. I used IE6, 7, 8 and Firefox 16 and 18. As I don't have all these browsers installed on my local machine I used different machines with AJAX Edition installed locally. After recording my sessions I exported the data into a dtas file and imported it all into my local AJAX Edition instance for analysis. This is also a typical use case in test departments where tests are done on different machines with different configurations. A performance expert receives these sessions for analysis and comparison.

If you want to know the details about how these KPIs are calculated you can read up on them on our Best Practices on Web Performance Optimization community page.
When I checked zappos.com I saw a huge difference in page load time. Sure, I had expected this, but now I can quantify exactly what the difference is, and how different the experience of using the site is for people accessing it on different browsers. The majority of the time turned out to be spent in JavaScript, which took significantly longer on older browsers such as IE 6, IE 7 and Firefox 16.
Check out the following table that shows the key metrics across the different browsers for one of the product pages. The Fully Loaded time is the important metric to look for and the Client Time (Java Script Time) is the one metric with the biggest contribution to that Fully Loaded time:

When looking at the Timeline View of the fastest (IE8) and the slowest (IE6) browsers, it is easy to spot where the differences are during page load: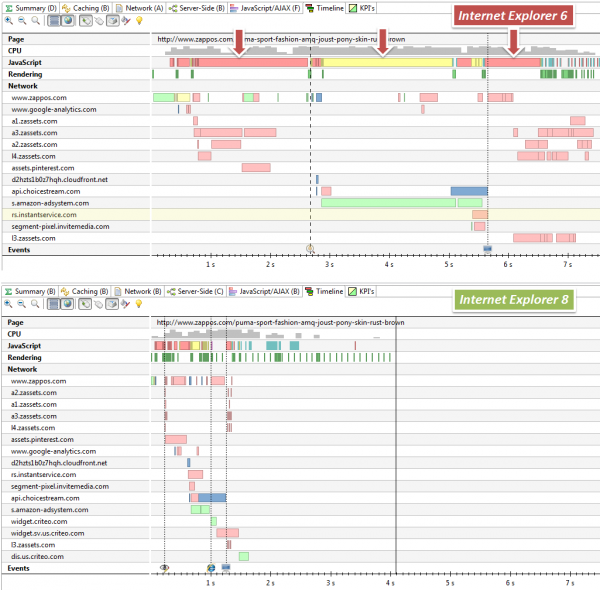 It shows how much performance impact JavaScript running on an older browser has on page load time. If supporting older browsers is still a priority for your business you'd better test and optimize for it.
Step 4: Deep-dive Analysis
The AJAX Edition doesn't just leave us with a nice timeline view but also allows us to drill into the JavaScript executions that take so long. Double clicking on these long-running JavaScript blocks opens the JavaScript PurePath Dashlet that allows us to navigate through the exact JavaScript execution. The following screenshot shows the PurePath dashlet with the highlights on the long-running JavaScript methods. Seems like the problem is related to encoding and decoding long strings that are extraordinarily slow on IE6: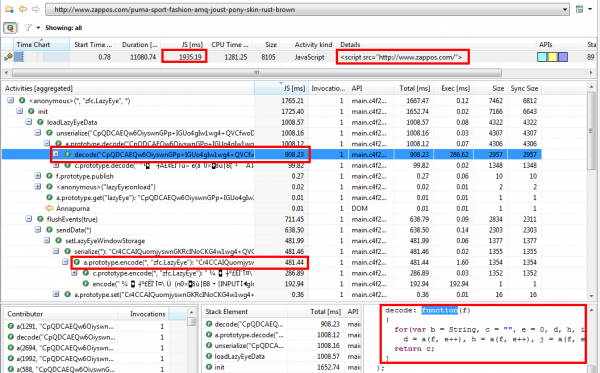 Besides going deep into JavaScript, AJAX Edition also provides deep insight into XHR (AJAX) Calls and how these calls impact page performance. Another unique aspect is analysis options for Rendering and Layout activities such as CSS Evaluations, Layouting and Drawing.
If you want to learn more about the deep-five diagnostics options I recommend, check out the online video tutorials on the specific views: AJAX Edition Tutorials.
Step 5: Compare Against Your Competition
Optimizing your site to work well on different browsers is great, but what if you are still much slower than your competition? AJAX Edition has built-in integration with Speed of the Web, which allows you to compare your KPIs against other websites in your industry. Once you have registered a community account and activated your copy of AJAX Edition you can select a category on the first tab in the Performance Report. Your KPIs will then be compared against the latest tests done by Speed of the Web.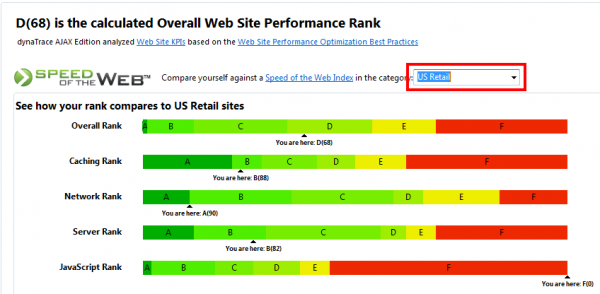 Speed of the Web not only provides the KPIs of the top sites in different industries, it also allows you to test your own site using the same testing infrastructure as used to compute these values used in the comparison. Go to the SpeedoftheWeb.org and enter your URL. Not only will you get an online result of a tested URL you've entered, you will also get an AJAX Edition Session for download as Speed of the Web uses AJAX Edition to run these tests.
Step 6: Go Beyond Your Browser
Not all performance problems can be fixed by optimizing your JavaScript code, using sprites or enabling proper caching. You may also want to automate most of this testing instead of manually analyzing all this data for every build. If you are interested in how to automate performance analysis as well as getting insight into server-side performance problems, check out some of our other blogs such as Top Performance Problems from Zappos, Monster and Co as well as Next Generation Web Performance Optimization.