Just in time for our speaking session at SenchaCon 2013 we are happy to announce the latest version of Dynatrace AJAX Edition. Version 4.2 now supports the latest versions of Firefox (FF 21 & FF 22). Download the latest version from our AJAX Edition website.
SenchaCon 2013 Session Preview
If you happen to be at SenchaCon 2013 then consider checking out our session. I will show you how to best leverage the AJAX Edition to analyze and optimize Page Load as well User Interaction times of modern web applications for both Internet Explorer as well as Firefox. We start by giving new AJAX Edition users a brief introduction on the core functionality but will then mainly talk about advanced features and Best Practices on both browser-side performance but also the impact that modern browser technologies have on the overall application performance – especially under load.
The following screenshot shows the typical starting point when analyzing a recorded session: The Timeline View. It makes it easy to understand what impacts page load as well as user interactivity time, e.g.: when opening dynamic dialogs or submitting asynchronous requests to a backend server: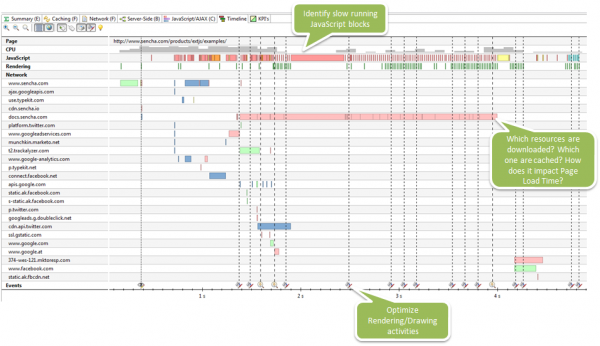 From this view we drill further into Network Activities, JavaScript Execution, Rendering or XHR/AJAX Performance Analysis. In the session we will have a closer look at the PurePath View and the advanced features to analyze JavaScript hotspots and the impact of DOM access to end user experience. Looking forward to seeing some of you in the audience.
Getting Started with Dynatrace AJAX Edition
I want to highlight several resources that will help new and experienced users:
Stay tuned for regular updates of the AJAX Edition. We always try to keep up with the frequent new versions of Internet Explorer and Firefox.