The saying "if it doesn't exist on the Internet, it doesn't exist"1 is reigning truer every day. Nowadays, it is hard to imagine most businesses without an e-commerce platform, let alone without a web presence at all. Since e-commerce is becoming the new standard, e-commerce performance needs to be at its best.

In this blog series, I have come up with several ways to ensure your company's e-commerce performance success, including: avoiding unnecessary network load, reducing number of (internal) HTTP errors, improving backend performance, understanding your clients, ensuring scalability of e-commerce site and finally understanding sales results through conversion rate.
Our client TescaraHats (name changed for commercial reasons), a European market leader in manufacturing customized hats, decided to expand its market reach with an e-commerce site where its potential customers could choose, customize and order hats online. Since the company's core competence is in delivering highly customized products, TescaraHats could not simply use an off-the-shelf e-commerce application. It needs a customization wizard so that customers can create a uniquely customized product.
When sales did not increase after the implementation of the e-commerce platform, TescaraHats learned quickly that there is much more to e-commerce than simply putting an e-commerce service online.
Is E-Commerce a Silver Bullet ?
When you start a new business you usually need, at least, two things: 1) to let people know about it and 2) to make sure your employees know how to sell the products. In the case of e-commerce, a lot of businesses initially focus on getting a high page ranking in Google search results, instead of actually selling the products. A common misconception about search engine optimization (SEO) is that people treat it as some kind of voodoo for which an external "shaman" has to be brought in. Moreover, some agencies that specialize in SEO rely too much on the importance of search results for B2B and do a poor job by focusing only on the short-term "hacking" of Google results by creating an enormous network of connected sites which route the traffic to their clients' web site. Those companies who focus only on the external web of links might eventually suffer the wrath of Google that considers such practices as cheating and takes actions to downgrade or remove fallacious brand from search results;BMW and JCPenney are two examples that learned it the hard way.
What search engines like Google stress is that, just like in case of a brick and mortar location, loud marketing is only part of the story. The business should offer desired products and hire skilled, customer-focused sales people. According to Matt Cutts from Google applying black hat SEO techniques, such as link spamming, will less likely get your site to show up in search results in few months.
TescaraHats is a well-recognized brand and is known as THE customized hats manufacturer in Europe. The company believed that an e-commerce site would be an easy way to boost its sales. However, due to the poor e-commerce performance of the application, users were unhappy with their experiences and the application was not the silver bullet TescaraHats had hoped for.
E-commerce is your business online; therefore it is subject to "web rules." As Jakob Nielsen writes in his report Did Poor Usability Kill E-Commerce: "You forget the web's realities? You die." According to this report, if users cannot navigate easily through an e-commerce site, the site will lose almost half (44%) of its potential sales. On average, users currently only succeed with their purchase 56% of the time. The report concludes: with better usability the average site could increase its current sales by 79%.
Understanding E-Commerce Performance
The usability of an e-commerce (and not only) site is a compilation of many factors; with application performance at the forefront.
The process of ordering a customized hat with TescaraHats e-commerce site consists of three steps (see Figure 1):
The customers choose a type of the hat.
They choose their size, color, add-ons, etc.
Eventually they complete their purchase by submitting the order form, proving shipping and payment details.

Figure 1. TescaraHats e-commerce workflow
TescaraHats was preparing for an influx of new orders when the company commenced its e-commerce site, but this was not the case.
Even simple reports from tools like Google Analytics could show that the problem was not getting users to visit the site, but rather getting customers to complete transactions.
In order to see the real reason behind low online sales the Marketing team also consulted the Operations team. The team used an APM tool that could analyze the performance of the data center and application, and show how well the e-commerce site performed depending on geographical location and browser type.
Figure 2 shows an overview report of performance of all major components. The configuration services (Configurator, Configurator hats) experience the worst performance, followed by the components responsible for completing the order (Shopping Cart, Login).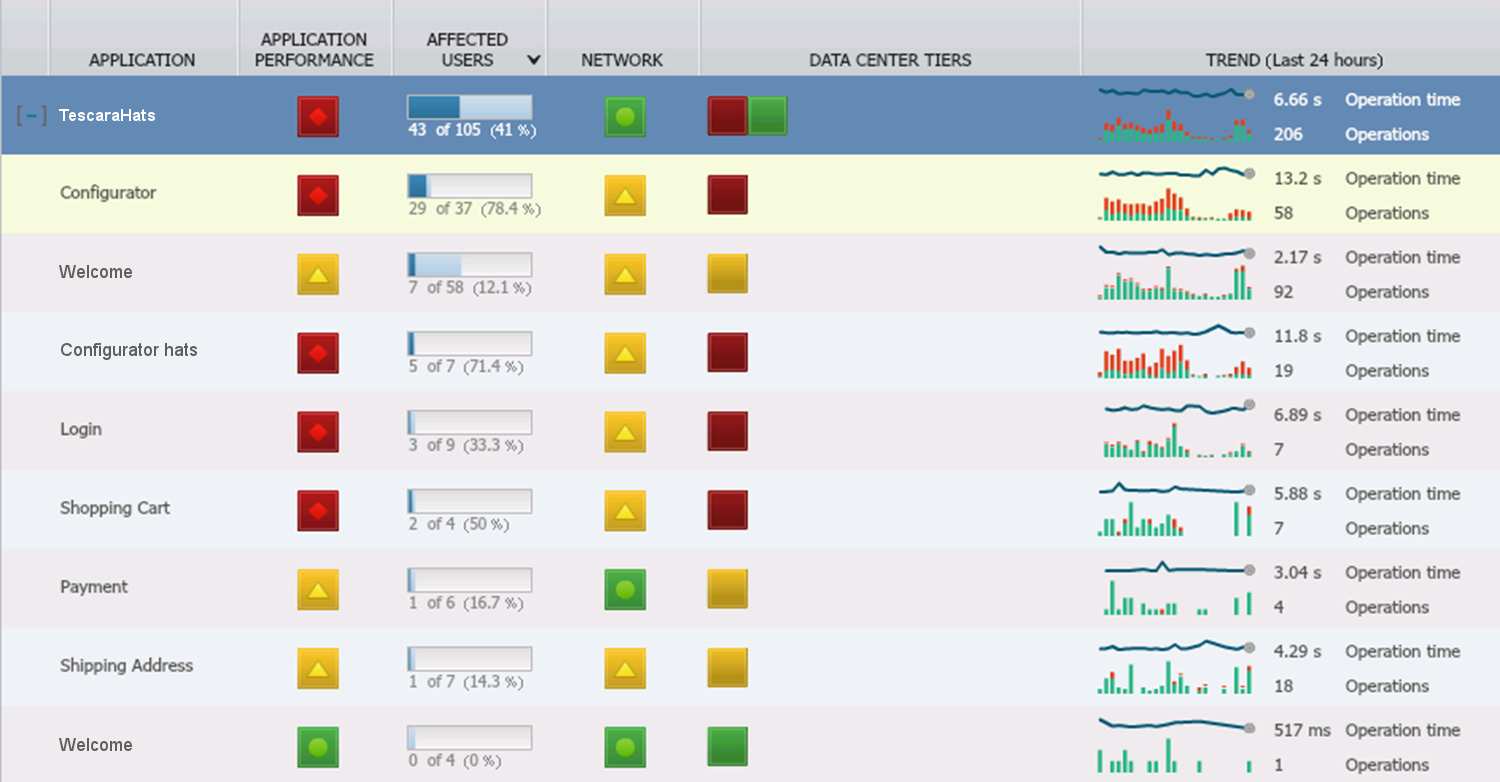 Figure 2. With the health status check report, the Operations Team can quickly determine which infrastructure components experience performance problems and which e-commerce operations are affected.
And What Now?
The TescaraHats use case shows that e-commerce sales results rely not only on pagerank but also on application performance and usability. Over the next 4 posts of this series we will demystify poor sales by looking at some aspects of improving usability of an e-commerce solution through application performance management. We will start with improving backend performance and go all the way to understanding conversion rate.
---
(This series is based on materials contributed by Pieter Jan Switten, Pieter Van Heck, and Paweł Brzoska based on original customer data. Some screens presented are customized while delivering the same value as out of the box reports.)
---
Kenneth Goldsmith, Presented at Elective Affinities Conference, University of Pennsylvania, September 27, 2005 ↩