What is your biggest fear when it comes to artificial intelligence (AI)? Is it that it will take your job? That it will replace humans all together? When it comes to the value of AI, everyone has an opinion, but when we asked our customer Virgin Money this same question, they told us they aren't afraid of it at all. In fact, they see AI as a way to regain control over their IT environment.
The Virgin Money Model
Virgin Money, a leading financial institution in the UK, needed to find a way to automatically monitor the performance of its digital ecosystem. The Operations team was drowning in unsolvable performance issues and like most teams suffered with time pressure, growing complexity, and increased pressure from the business.
Let's also not forget that it's a Virgin brand, which means brand experience is more important than ever.
By implementing Dynatrace, Virgin Money is now able to automatically, with the help of AI, identify the root cause of performance issues in minutes, not days. That's significant dollars savings. Or in this case Pounds.
At Perform 2018 they shared these stats – which is an example of one singular problem: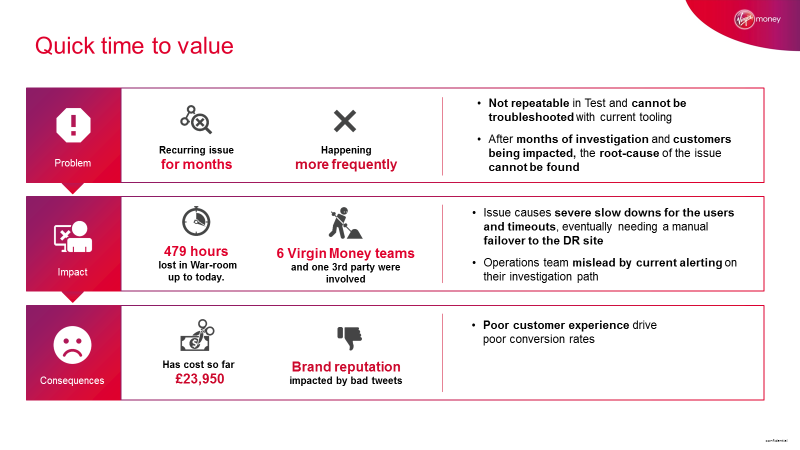 Today, they've embraced the automation and AI that powers Dynatrace, to enable them to spend more time on what they call 'the innovation to do list' vs hunting down performance issues.
You can read what Diginomica wrote here: https://diginomica.com/2018/02/08/dynatrace-perform-2018-virgin-money-looks-cash-beyond-apm/or view their presentation here.
IT Complexity
The truth of the matter is, new technologies and cloud architectures are adding layers of complexity to an already complex digital ecosystem. Not only are enterprises shifting apps to a variety of different cloud environments – hybrid cloud, on-prem, public cloud – but, applications are being Re-deployed as container, microservice and serverless functions.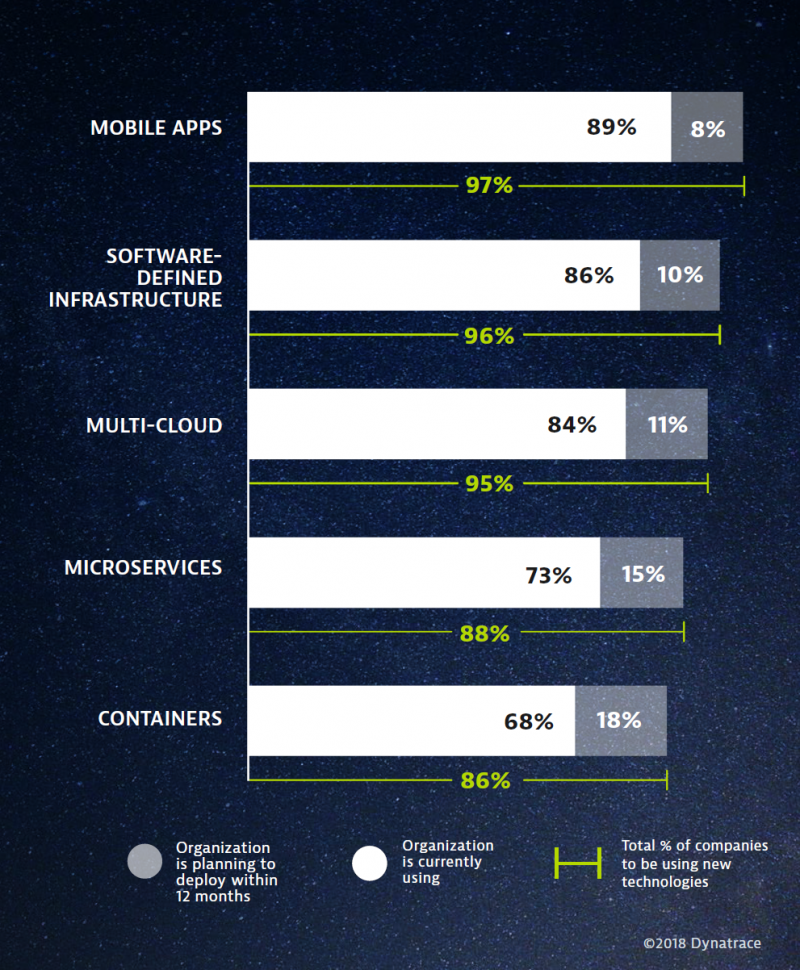 Compounding the complexity challenge, end users are accessing these apps on their phones, in the car and on their smart appliances. IoT introduces a whole new world of complexity.
So, when something goes wrong, identifying the root cause is a lot like trying to find a needle in a haystack.
As these complexities grow, IT teams are struggling to keep up. To manage the sheer scale of components in modern, distributed systems, automation is becoming a necessity, and AI is the only realistic way to counter the complexity.
Competition – 'Disrupt or be disrupted'
IT's a software defined world, and all companies are striving to deliver better software faster. This means utilizing AI and machine learning.
Google is already at the forefront of this. This tweet was from an event I was at in 2016.
Google code commits: machines have significantly surpassed humans #openroads2016 #AI #Automation Niall Murphy – SRE Google pic.twitter.com/iXVt45rjp1

— Dave Anderson (@daveando) November 11, 2016
The AI is about driving automation and competitive advantage. It's also about cost reduction to shift the focus of people from traditional operations to dynamic DevOps or even NoOps.
The cost reduction was quantified in a recent report we did, that found that IT teams currently spend $2.5 million and 29 percent of their time putting out digital performance fires
By implementing the Dynatrace platform that leverages AI, businesses can focus on delivering better features, functions, and innovation that will drive better revenue, increase brand loyalty and better customer experiences.
So, next time you think about AI and all the uncertainties that come with it, remember that 83 percent of CIOs are planning to implement AI technologies this year. And, you know what they say, if you can't beat 'em, join 'em – you'll be glad you did!
Curious to see what a perfect digital experience could look like? Let us show you. Click here for a free 15-day Dynatrace trial.