We have great news! Dynatrace now offers integrated availability monitoring! Currently available in public beta, Dynatrace availability monitoring provides you with 24/7 global visibility into your web application—regardless of whether or not users are currently visiting your site.
Resolve problems before they affect your customers. With Dynatrace's powerful root cause analysis and availability monitoring you can catch availability failures and fix them before users even notice.
Transactional recording, made easy. Gone are the days of unreliable and complex scripted transactions. Our visual recording technology only requires you to interact with your site—we handle the rest.
Monitor password protected sites without lifting a finger. Using Dynatrace's proprietary LoginSense technology, you just enter a username and password to have all your automated web checks intelligently bypass your application's login page.
Using synthetic user visits, or web checks, you can monitor the availability of a URL or any number of business-critical transactions in your environment. You can quickly set up a simple web check and begin receiving performance and availability data within seconds. Web checks are much more than simple HTTP pingers, though they're just as easy to set up. They drive real web browser sessions with full HTML5/AJAX support. Web checks are therefore a great option for availability monitoring of all public and password-protected websites.
Current customers may note the term "monitors" used in place of "Web checks" on the homepage tile and on other Dynatrace pages. The term "web checks" will replace "monitors" in the next couple of weeks.
Get started with availability monitoring
If you're a new user, you'll see a Web checks tile on your homepage by default when you login. Existing users need to add the Web checks tile manually to get started:
From your Dynatrace homepage, click Add tile.
Click Synthetic in the left-hand column to filter your results.
Click the Web checks Add tile button.
To create a web check:
Click the Web checks tile on your homepage.
Click Add web check on the menu bar.
Type the name of the website you want to monitor and click Add web check.
For full details, see How do I create a web check?
Minimalistic point-and-click recording
Your web application provides certain key functionality to your customers that is critical to the success of your business. "Clickpaths" ensure that this functionality is available to your customers 24/7. Our easy-to-use recorder only requires you to interact with your web application—nothing else. You gain action-level visibility by simply clicking through your site!
With our one-click, one-time recorder installation, transaction-level availability monitoring is at your fingertips. For full details on recording clickpaths, see How do I record a clickpath?
Fully integrated root cause analysis
Availability monitoring is the missing puzzle piece in your end-to-end monitoring solution. With zero configuration, your web checks are automatically integrated into your application-, services-, and infrastructure monitoring metrics. With availability monitoring insights you can now catch regional availability problems and identify their root causes on the infrastructure level before they affect your customers. See the example below: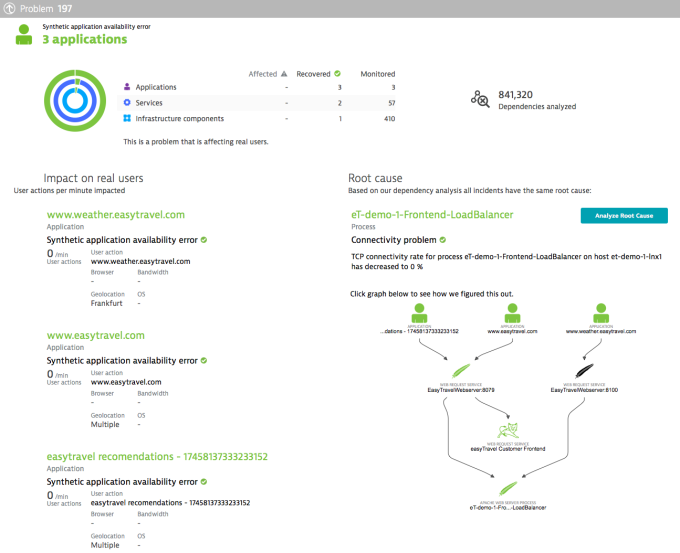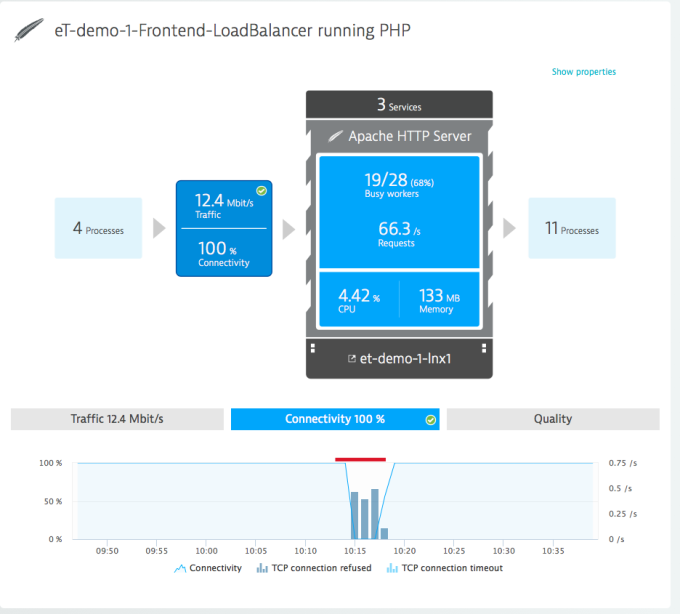 Dynatrace root-cause analysis correctly identifies the cause of these applications' availability problems: TCP connection request refusals on an Apache HTTP server.