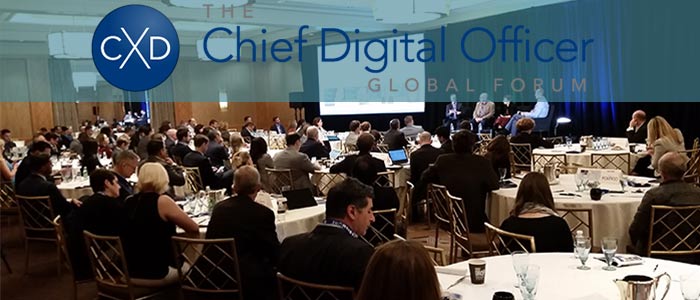 I had the opportunity to attend the Chief Digital Officer Global Forum in NYC last week and was impressed by the major brands representing a very serious focus on transforming deeply and digitally to create better experiences for their customers. Not everyone there had committed to the Chief Digital Officer title yet, some flirting with it, some not into "labels" but everyone very much in a position to turn their world upside down to succeed.
Curious who exactly exhibits the symptoms of a CDO without holding the title? Some examples of those titles in attendance other than CDO were; Chief Executive Officer, Chief Marketing Officer, Head of Digital, VP Digital Strategy, Director Digital, Head of Innovation and combinations of the above.
At the highest level, the most commonly addressed topics discussed and in order of severity/frequency were:
Customer Experience (CX) – preserving a differentiated 1-1 relationship, big requirement for engaging content, omnichannel delivery, flawless delivery and account information context to make accurate decisions
Digital Transformation – what it takes strategically to accomplish this
Focus – the need to strike balance with incoming complexity and demands from digital, outsourcing requirements that aren't your strength
Internet of Things (IoT) – more of a check-list item for execs to say "I'm aware"
Culture change – items mentioned: failing fast, agile processes, innovating
Mobile web vs. mobile app – general consensus that apps offer more CX friendly & differentiating features
Effective methods of influence – Misc. items mentioned; programmatic ad buys, social, "sponsored organic" influence tactics.
The subjects of Digital Transformation, CX, Focus and Culture change seemed inseparable. The majority of those in attendance are from large established brands who carry the legacy infrastructure and processes as well as an immediate need to prevent disruption from unseen upstarts. The cloud-born originals in the group essentially served as models for the rest of us to emulate, with agile and focused cultures already in place, they are freed to focus solely on creating engaging customer experiences.
Digital transformations are about learning … institutional knowledge drives less and less decision making" – Drew Ianni, CDX Forum Chair
Perhaps some of the most useful commentary on the subject of Digital Transformation and what it takes to accomplish it, came from Matthew Pritchard of Gsk. When asked about finding focus at Gsk he mentions that focus as much about understanding what not to do and tempering enthusiasm to maintain focus and deliver quickly. He also noticed an internal struggle with who holds responsibility for digital, many groups making assumptions about what marketing is responsible for and not appropriately shouldering the company-wide digital load. To change culture internally they identified change agents across various departments, noting that the hardest part was getting middle management to get to change.
Employees forget that they are also consumers, when they walk into the door it's like they turn that part of their brain off and but their business hat on." – Matthew Pritchard, Global Head Of Digital, Gsk
I can't say I'm surprised by the topics and direction the conversations went while attending although the overwhelming need to address nearly the exact same issues across industries and enterprises is surely interesting. If you're struggling with any of the seven topics mentioned earlier, you aren't alone!
If you're in Silicon Valley this October meet me at the next CDX show to chat.