Integrate Dynatrace AI into your IT ecosystem
Make Dynatrace part of your fabric. Get full observability across your entire technology stack with no blind spots through Dynatrace AI integration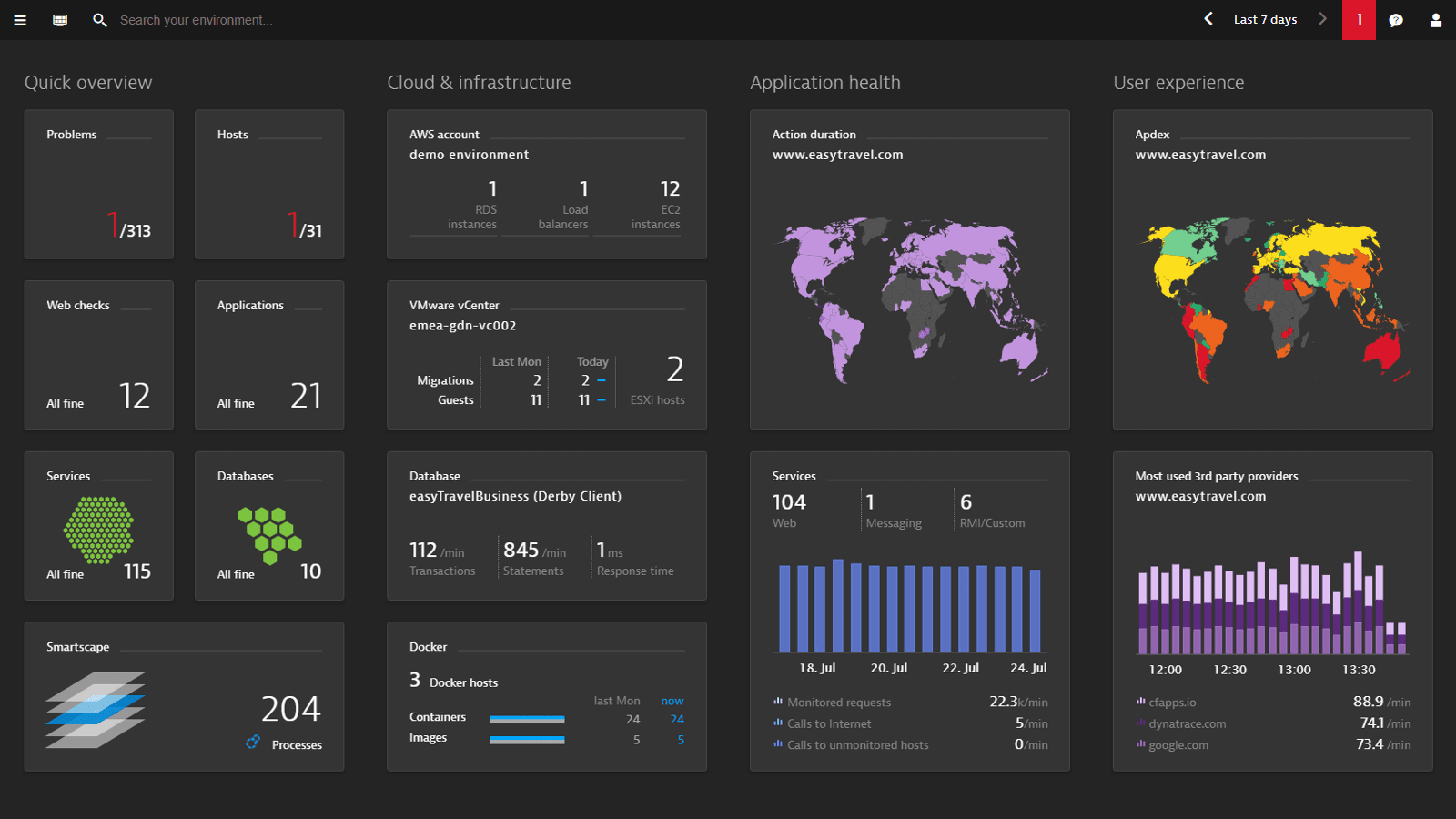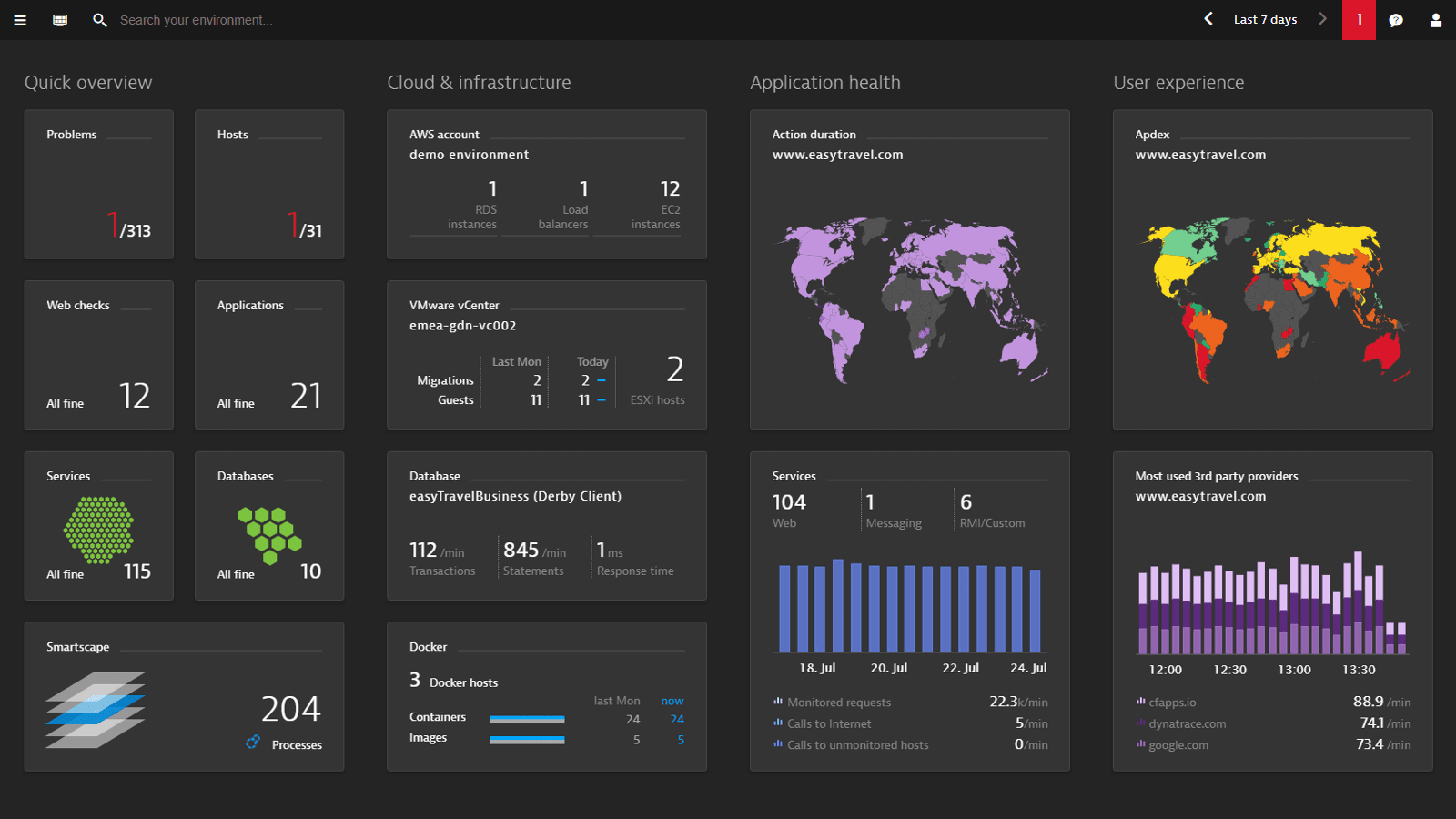 Open ecosystem
---
Many of you know Dynatrace supports the most popular technologies and now Dynatrace is opening up its AI engine for external data. Never before has it been easier to break down silos and create an open dialog across business and IT. By leveraging APIs and platform extensions, Dynatrace provides full stack data analytics and can ingest external data into our AI engines, providing valuable data showing causation cross the IT stacks.
Make better decisions with AI data
---
Organizations that leverage Dynatrace AI data into their IT ecosystem will gain a strategic advantage.
New era of IT agility
Improved operations
Unmatched breadth of observability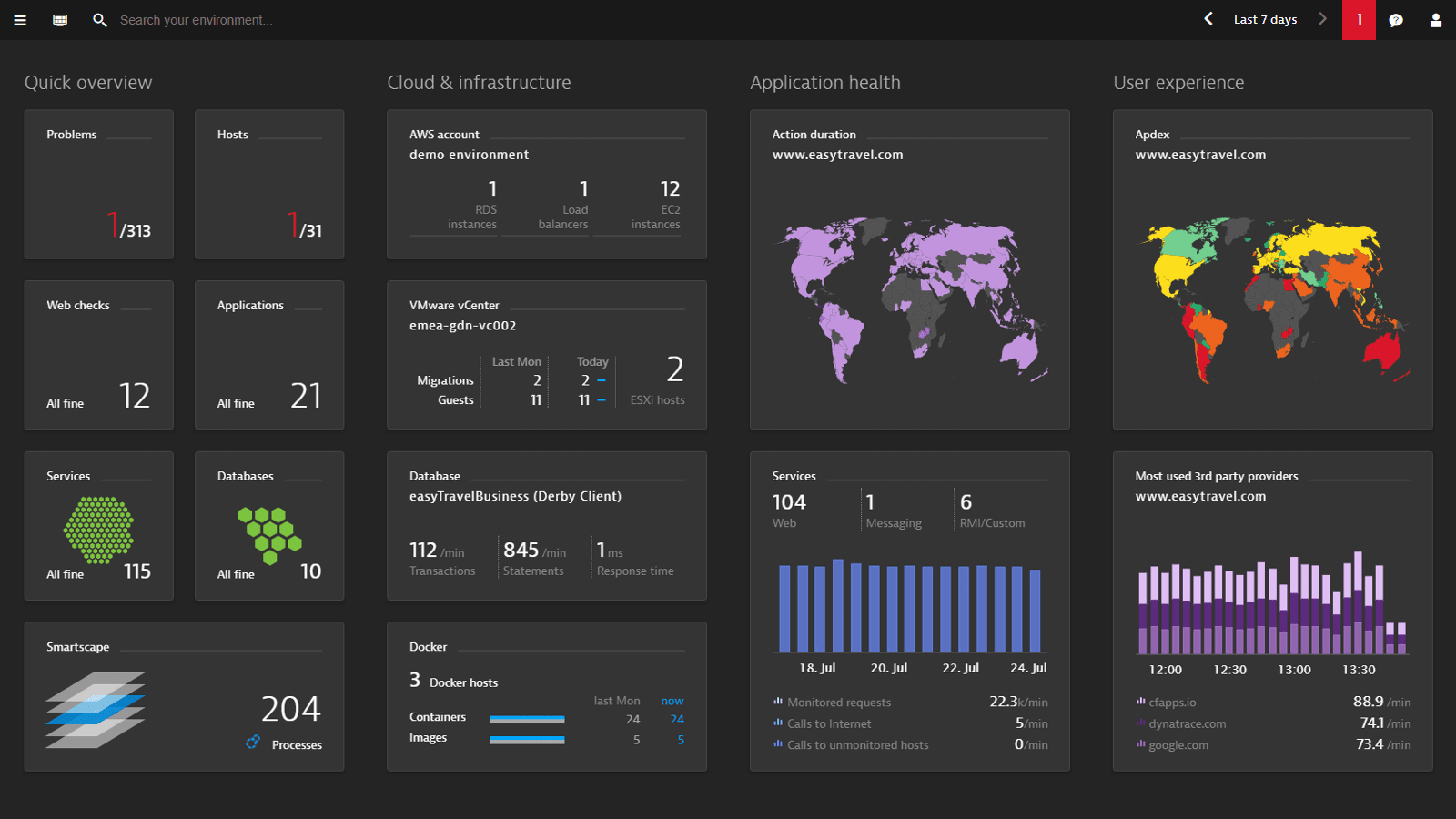 Full transactional view - business, real-user, applications, network, infrastructure, cloud.
Ways Dynatrace integrates into the core fabric of your business
---
Dynatrace AI data gives you full insight across your entire ecosystem, application monitoring, automation, service management, log monitoring, and notification tools.
Automation & orchestration
Automatic synchronization of all auto-discovered hosts, services and applications within your CMDB.
Automatic generation of business service maps and linking of detected problems with all affected CMDB CIs.
Auto remediation to triage, diagnose and resolve problems faster.
Workflow & collaboration
Seamless integration for workflow automation of inbound events and data.
Manage all tickets/events in a single alert, no more alert spam.
VoiceOps/ChatOps with Davis® Assistant.
Answers and insights instead of raw data, anywhere and anytime.
Big data analytics
Monitor millions of sensors, smart devices and gateways as well as web scale backend applications and highly dynamic cloud deployments.
New levels of observability and insight into the customer digital experience through the perspective of the end user in real time.
See and capture the visual experience of a real user.
Will full insight into the health of your infrastructure, you can focus on the technical possibilities that will drive innovation.
SDK
Discover and solve problems at the host level.
Develop software applications targeting a specific platform.
OpenTracing
Trace transactions and quickly identify where problems are coming from.
Plugin/Remote plugins
Interact with the user's workspace over the VFS (Virtual File System) protocol, providing a Filesystem, Process and Network API.
Code is executed in user's browser.
Open API
Software programs interact with each other and can import/export data.
Time series to provide comprehensive data for forecasting.
Topology holds all the host machines information and API servers.
Don't go it alone, Dynatrace Services is here to help!
---
With Dynatrace Services, you get actionable results to complex IT problems.
Faster onboarding
Get your team up to speed quicker using dynamic education and learning paths.
Deeper insights
Leverage best practices with our proven methodology.
Accelerated transformation
Be proactive, not reactive, with our Dynatrace Experts.
For more information on the ways to leverage Dynatrace Services, click here.
Start your free Dynatrace trial today!
---
Just a few of our enterprise customers
Dynatrace named a 2021 Gartner
Magic Quadrant Leader
---
2021 Gartner Magic Quadrant for APM
Named a Leader for the 11th consecutive time
Download report
2021 Gartner Critical Capabilities for APM
Scored highest in 4 out of 5 use cases
Download report