We're excited to announce that Ruxit is now a technology partner in the AWS Partner Network. Since the launch of Ruxit last September, we've had the opportunity to work with a number of AWS customers, enabling them to more efficiently manage their applications in AWS.
As Ruxit itself runs on Amazon Web Services, we know firsthand what's needed to provide effective monitoring within . Everything we build is tested and optimized against our own AWS installations.
Advanced monitoring on top of AWS CloudWatch
A few weeks back we announced monitoring support that leverages data gathered via AWS CloudWatch. Here are the highlights:
Detailed insights into resource usage.
Analysis of auto-scaling group dynamics.
Seamlessly integrated application and infrastructure insights.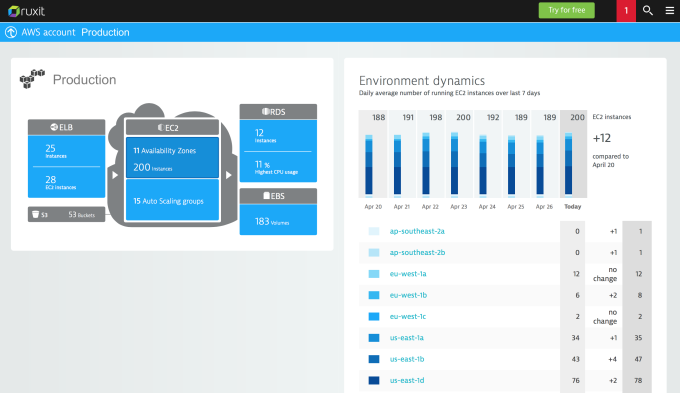 For more details, see Ruxit support for AWS monitoring. Best of all, if you're a Ruxit customer, you get all of this for free.
As always, we've kept the installation as quick and easy as possible. Just provide your CloudWatch credentials to set up integration with Ruxit.
Ruxit in the AWS marketplace
From both a technology perspective and a cost perspective, Ruxit has proven to be the perfect monitoring solution for dynamic cloud environments. Ruxit is now available via the AWS marketplace (we have our first 5-star review and can't wait to get more).
Our consumption-based "pay as you go" pricing model fits perfectly with the way you consume your cloud services—hourly, without any commitments. Visit our website to learn more about Ruxit pricing
Support for AWS startups: AWS Activate
At Ruxit, we love and live by the principles of the lean startup. And we want to support other startups by enabling them to use the best available monitoring solution, even if they're on a tight budget. As part of the Activate program, we're offering a powerful monitoring package—worth about $10,000 USD—for only $100 USD. This gives you a full year of Ruxit monitoring!
Engaging with the AWS community
We're very proud of what we've built at Ruxit and we enjoy sharing our knowledge about how we created a world-class SaaS platform with an incredibly fast time-to-market (80 days). We recently presented at the AWS Pop-Up Loft in San Francisco. The slides are available online. If you have any questions, just leave us a comment.
At the end of June we'll be at the AWS Summit in Berlin. If you're nearby, stop by and get some firsthand experience with Ruxit. We'll be hosting three talks on a range of subjects related to running a business via AWS:
Running a global monitoring service in AWS: Lessons learned
Ensuring availability and performance of large-scale AWS deployments
More to come
We're currently working hard on extending our AWS support even further. We'll be releasing new features in the coming months, so stay tuned.
If you haven't tried Ruxit for AWS monitoring yet, what are you waiting for? You can register and try Ruxit for free!