Dynatrace Ruxit Managed customers only
Following the release of Dynatrace Ruxit Managed v100, it's time to share a quick overview of the new functionality that we've developed to enhance our security and resiliency features:
Fully integrated change audit log
With numerous users changing environments, settings, and configuring your Dynatrace Ruxit Managed installation, it's important that you be able to see what changes have been made, who made those changes, and when those changes were made. In some compliance-bound organizations, it is often a hard requirement that such configuration change details be logged.
Dynatrace Ruxit Managed now provides a fully integrated audit log that works with no extra configuration. The Audit log tracks all changes made to each individual environment. Each time a user changes the name of a monitored service or application or makes changes to the Dynatrace Ruxit Managed configuration itself—for example by changing the SMTP server or the user authentication mechanism—an entry is written to the Audit log. Even system changes performed by our Mission Control team are fully logged.
To access the Audit log, select Audit log in the menu on the left.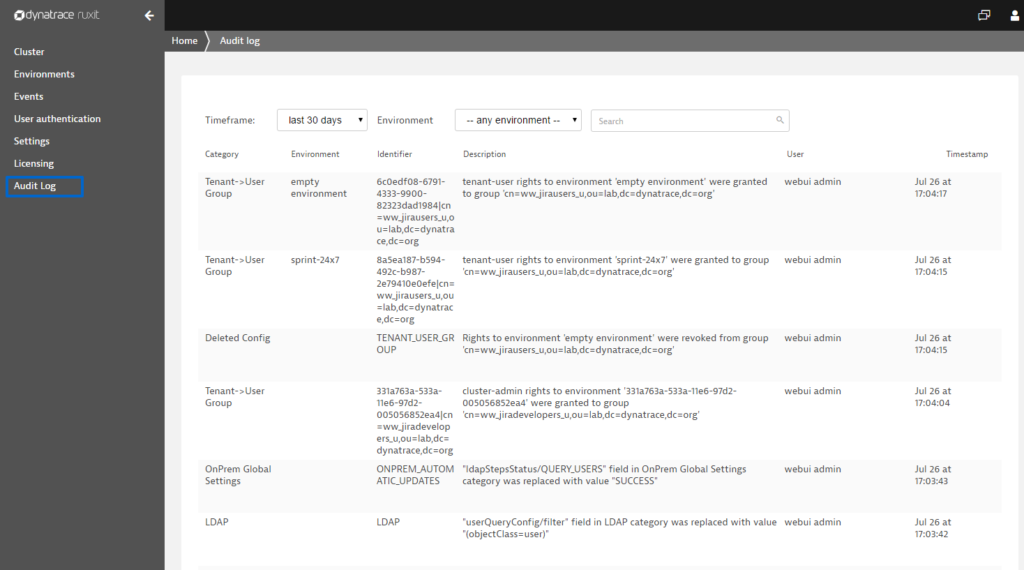 Automatic failover for the Web UI
Dynatrace Ruxit Managed is built for automatic failover on many levels. For example, agent traffic is automatically routed to different cluster nodes or Security Gateways when component failures occur. For the user interface however, to-date we've relied on an external load balancer to manage automated failover. With this latest version of Dynatrace Ruxit Managed, the routing tables of your cluster nodes are adjusted automatically so that, when one node goes down, all Web UI traffic is automatically and transparently rerouted to an active node. This feature isn't reliant on any external component and is easily enabled with the flip of a switch.
To enable automatic failover for the Web UI
Select Settings from the menu.
Select Ruxit Managed URLs.
Enable the Internal failover switch.
Note: This option is only available if you have a Dynatrace Ruxit Managed cluster that includes multiple nodes.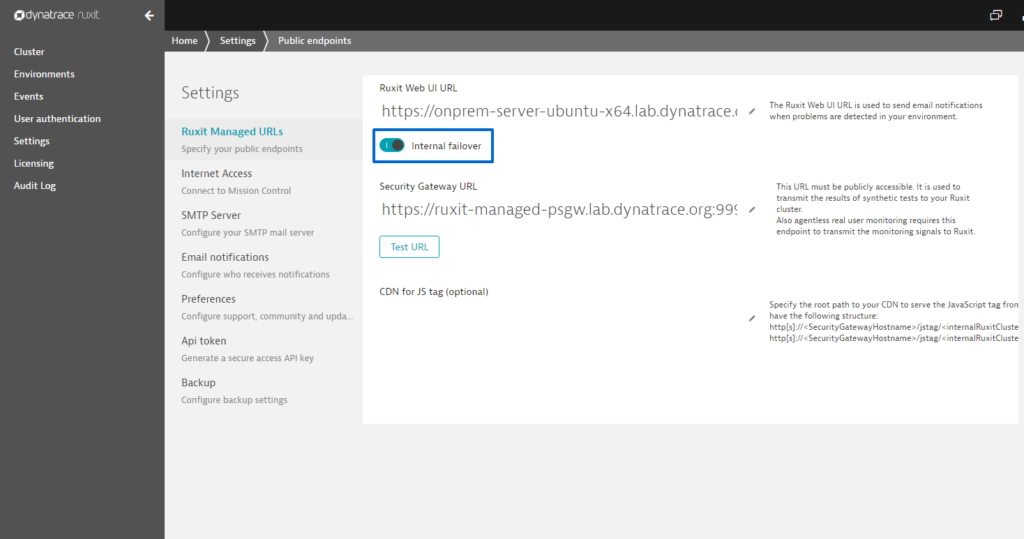 Ruxit Managed now features Elasticsearch
We recently announced all new user behavior and performance analytics views for Ruxit SaaS. As with all new functionality provided by Ruxit SaaS, integrated user behavior and performance analytics views are now also available in Dynatrace Ruxit Managed. Unlike most other features however, this one requires a substantial addition to your Dynatrace Ruxit Managed cluster nodes. Specifically, we're now running Elasticsearch to store user sessions and drive analytics capabilities.
This means that your servers will use more memory going forward (as long as your hardware is within our specifications, you're fine) and there will be an additional running process. Of course this new component is installed automatically during the upgrade to v100.
For each of your environments you can now select how many days you want user analytics data to be kept. The default is 35 days.
Send emails without an SMTP server
To-date, it was necessary to provide an SMTP server to email users, send notifications, and send problem alerts. Now, Dynatrace Mission Control can handle all user communications for you automatically. So, when no SMTP server is configured, Mission Control automatically manages email server functions for you. This makes Dynatrace Ruxit Managed even easier to use—you no longer need to configure SMTP settings and credentials. If you prefer, you can of course still have Dynatrace Ruxit Managed send emails via your own SMTP server.